SuperPay.me review – SuperPay.me says it is a site that helps you make money online quickly and easily. It explains that at SuperPay.me, you are rewarded for sharing your opinion. Really easy! You share your opinion with the brands you love by completing market research surveys, and you earn whilst doing so.
Thus SuperPay.me is one of the many Paid Survey Sites around. The question is how good of a survey site is it. First and foremost, is it a legit Paid Survey Site that will really credit you when you complete tasks and pay you when you request payment? Also, does it offer what you'll expect of the ideal survey site? That is, does it provide many earning opportunities (lots of surveys, or some other ways to earn from)? Does it do well when it comes to payment? That is, does it have low cash-out threshold and give fast payments? Does it have effective support service?
This SuperPay.me review will examine SuperPay.me in order to provide the information that will help you answer these questions and more.
Introduction
What is SuperPay.me?
SuperPay.me is one of those sites where you can do surveys and other simple things and make money online. Thus, it is not exclusively a Paid Survey site but a GPT (Get Paid To) site. That is, in SuperPay.me, you'll get paid when you do a variety of simple stuffs.
SuperPay.me is great for people who want to earn a little extra working from home, for workers who want some extra income to bridge the gap between pay checks, for students who want some extra income so as to stay on top of those student debts, and for just about anyone who wants to have some extra cash in their pockets.
SuperPay.me was started in 2012. It is operated by 99 Ventures Limited which is the same company behind Offernation and RewardingWays. Thus, these two sites are sister sites of SuperPay.me. In fact, you'll find that the three sites have similar offers. So, if you are a member of one of these sites, joining another one of them may not be the best.
Is SuperPay.me legit?
Wondering if GPT sites are really legit? That is, wondering why anyone will pay you for simply sharing your opinion? There's no scam here. Brands need customers feedback to help shape their products and services; they pay market research companies (who operate GPT sites) to help them get the data; and these GPT sites will give you a part of the payment they receive if you participate in arranged activities.
Wondering if SuperPay.me itself is legit? That is, wondering whether you can really make money in SuperPay.me, and whether you'll get paid? There's no doubt that there's no scam there. SuperPay.me is 100% legit. This is clear because of the following:
Operator Profile – As mentioned earlier, SuperPay.me is operated by 99 Ventures Ltd. This is not just a 100% legal company that is fully registered, it is also a relatively popular market research company with top brands as advertising partners. Suffice it to say that a site from an operator of this profile is less likely to be scam. Also, 99 Ventures Ltd, is known for operating 3 GPT sites, and the other two are widely regarded as legit. Thus, it's hard seeing SuperPay.me as anything but legit.
Operating Record – SuperPay.me has passed the test of time. It was established in 2012, so (as of writing) it's been around for over 8 years. This is enough time for a scamming GPT site to be exposed. However, SuperPay.me has only grown stronger as its membership base continues to swell – as of writing, it had 593,753 members.
More importantly, SuperPay.me has shown itself to pay. As of writing, it has paid out over $3.4 million to its members. Given that scams are quickly found out to not pay their members, that SuperPay.me has shelled out millions in payment and continues to pay after 8 years can only mean that it is legit.
Is SuperPay.me safe?
To use any GPT site, you'll have to submit loads of sensitive data such as names, contact address, preferences, and more. Sometimes, you may also have to submit credit card information. No one will want such sensitive data, entrusted to a site, leaking out to unauthorized third users. Thus, the ideal GPT site should keep users' data safe. Thankfully, SuperPay.me does.
First, SuperPay.me uses industry-standard methods for keeping online data safe. Primarily, it uses SSL (Secure Sockets Layer) technology, which is a bank-grade technology. Secondly, it will not pass users' data to third parties (except expressly directed by you, or requested by law).
SuperPay.me Sister Sites
There are other popular and legitimate sites like SuperPay.me. They are regarded as SuperPay.me sister sites. The reason they are called SuperPay.me sister sites is that they have similar payment methods, rewards, earning ways and also management.
Below are the two SuperPay.me sister sites:
Who can use SuperPay.me?
Many GPT sites serves only a handful countries. However, earning a little extra income online without much stress is something that appeals to everyone everywhere. Thankfully, SuperPay.me is that GPT site that everyone everywhere can use.
Yes, SuperPay.me is made available to people from all countries. However, you must be over 18 years of age to participate. Know that, available earning opportunities vary country by countries; and are more for users in the US, Canada, Australia, and some European countries.
Intro – Hits and Misses
| | |
| --- | --- |
| Has a user-friendly websiteSuperpayme JC Operated by the legit 99 Ventures Ltd. Has vast experience, as it has been around since 2012. Has a strong membership base (593,753 active members as of writing). Keeps users' data safe using industry-standard techniques (including SSL). Available to people from all countries | Earning opportunities are limited for users outside the US, Canada, and select European countries |
Earning Potential
Getting started
To start earning from SuperPay.me, you'll have to register as a member. However, this is a simple process. Reaching the website (www.superpay.me), you'll find the green "Join Free Today" button; hit it to open the registration form, and it'll take you only about 2 minutes to be done (enter your name, address and other requested information).
Interestingly, SuperPay.me gives a join bonus. After every successful registration, $0.20 is immediately credited to your account. So, you earn something even without having completed any paying activity. The $0.20 join bonus of SuperPay.me is relatively small; but it can be obtained without any effort. You'll find GPT sites who offer bigger welcome bonuses, but most often than not, these come with conditions (like earning a particular amount within a limited time frame).
Mobile Use
Can you use SuperPay.me on your mobile device? Yes. There is no dedicated SuperPay.me app. However, the website is mobile-friendly. You can reach it using your mobile devices. This means that you can use SuperPay.me and earn wherever you may be.
No longer do you have to always sit before desktops to do surveys and put that little extra money in your pockets. Rather, wherever you go, as long as you have your mobile devices and an internet connection, you can fire up SuperPay.me, do tasks and keep the bucks dropping into your account. However, know that the website is not fully mobile-optimized.
Ways to Earn
As mentioned earlier, SuperPay.me is more than a paid survey site. It is a GPT site that allow members earn from doing surveys and many other things, like videos, paid trials and offers, a referral program, and more.
Paid Surveys
In SuperPay.me, the main way of earning is the Paid Surveys. SuperPay.me provides access to hundreds of market research surveys. You'll find new surveys available every day. SuperPay.me is able to give so many surveys because it works with a lot of survey providers. These include: OfferToro Surveys, Wannads Surveys, Persona.ly, PeanutLabs Surveys, and more.
You can visit the website many times a day to find surveys that you can take. Depending on the particular survey, you can expect to earn between $0.20 and $1.00 for each survey you complete. However, it is not every survey that you attempt that you'll take to completion and be paid for.
This is because surveys are targeted at particular profiles. The reason is not hard to fathom – a company that wants customer feedback to drive its cheese business will want to know if you are a cheese-person before it'll allow you take its cheese-centric survey. Got it? That said, sometimes, you can be well into the survey before you'll be disqualified.
However, since members are only paid for surveys that they take to completion, being disqualified from surveys hurts. Worse still, SuperPay.me does not compensate for disqualifications. In some GPT sites, members will receive some token points when they are disqualified from surveys. Unfortunately, SuperPay.me is not that generous.
Paid Offers
The Offer Wall is another place to find stuffs to do for some earning. The specially selected advertising partners of SuperPay.me has a reputation not only for providing paid surveys, but also offers and trials. The stuffs to do to earn are varied. There are the paid videos, where you simply watch videos that are made available and earn rewards.
You'll also find fun online games mad available which you can play and earn rewards. In some cases, you can download apps to earn rewards; in other cases, you can visit other websites and sign up to earn rewards. Then there are product trials, where you earn rewards for using and reviewing a particular product.
It should be said here that while there are free trials, many will require you to buy a product (of course for a nominal fee). If you don't want to make any purchase, you'll want to steer away from these types of offers. However, offers requiring some purchase are generally more profitable than free offers.
Also, you'll sometimes be required to submit your credit card information to take the free trials. That's a cue that at the end of the trial period, you'll automatically become a paying subscriber. Enjoying the service in the trial period, and cancelling at the nick of time is a way out. However, if forgetting to cancel will be an issue, then you can steer away from all trial offers (free or not) that requires your credit/ debit card information.
How much you can earn from offers will depend on the advertiser and the particular offer. However, product reviews (especially those requiring making a purchase) are typically the highest paying, as the pay anywhere between $5 and double digits. The videos tend to be the least paying, as you'll have to watch a couple of videos to earn even half a buck.
Promo Codes
Occasionally, SuperPay.me posts promo codes on their social media pages (Facebook, Twitter, Instagram, etc). S it pays to check the social pages of this GPT site. If you find any of these promo codes, simply go to the Promo Codes page in the SuperPay.me website to redeem the code and earn some rewards.
Quarterly Contests
This is a fine way to get a real cash boost. However, you'll have to put in a lot of work to earn from the contests. This is because each quarterly contest of SuperPay.me rewards the top 20 earners in the site in a 3-months period. The cash prize is $1,000, shared to the top 20 earners as follows:
| | |
| --- | --- |
| Positions | Amount |
| 1st | $350 |
| 2nd | $200 |
| 3rd | $100 |
| 4th and 5th | $50 each |
| 6th to 10th | $30 each |
| 11th to 20th | $10 each |
This is a fine reward system that is designed to make members increase their activity in the site and earn more. We like that instead of a prize draw as you'll find in some GPT site, this is a reward program that puts the power in each member's hand instead of in blind luck. We also like that 20 persons are rewarded instead of a "winner takes all" system.
Referral Program
Superpay.me runs a fantastic referral programme where you can earn money online just for telling others about the site. It gives a 25% referral commission. That is, you'll get paid a massive 25% of your referral earnings. Thus, if you can get in many referrals, you can earn a huge passive income from SuperPay.me.
Earning Potential – Hits and Misses
| | |
| --- | --- |
| Registration is very easy and will be over in 2 minutes $0.20 join bonus is given; credited immediately after a successfully registering. SuperPay.me site is mobile-friendly, allowing members complete tasks and earn on the move provides many ways to earn (including paid surveys, watching videos, trial offers, and more)Provides lots of surveys from different providers gives a generous referral program where members earn a 25% referral commission | There is no dedicated mobile app; and the website is not fully optimized for mobileThere's no compensation when disqualified from surveys |
Getting Paid
How SuperPay.me Pays
In SuperPay.me, you earn cash and points for completing tasks. For the paid surveys and some of the online offers, the reward is cash; but for many of the offers, the reward is points. However, the points can later be converted to cash (100 points equal to $1.00). Thus, upon completing tasks, whether your account is immediately credited with points or cash, at the end of the day, it is money in your pocket.
Payment Proofs
There is no doubt that SuperPay.me pays. As mentioned in the legit section, it has paid out over $3.4 million to members. No, this is not just some made-up stat. there are payment proofs.
In the SuperPay.me homepage, you'll find a "payment proof" link where you can find "who has been paid today". The page has a list of pay-outs complete with members' name, amount received, date of payment, and payment method.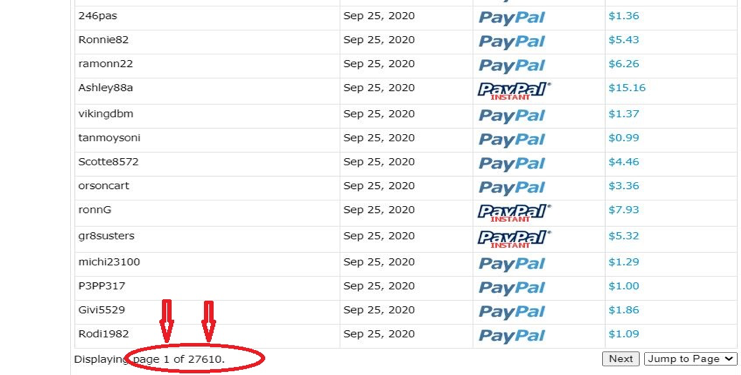 The picture above is a section of the withdrawal list, and you can see that it is 27,610 pages long (with each page having 20 pay-outs). You'll see that there are tens of pay-outs each day of the week. Importantly, payment proofs are not limited to the SuperPay.me website. You'll find them in independent online platforms.
In fact, SuperPay.me incentivizes posting of its payment proofs in other online platforms. That is, if you have been paid by SuperPay.me, you can earn something extra by posting your post payment proof on an external internet forum.
Payment Methods
Now that you've completed tasks, and your SuperPay.me account has been credited, how do you get your money. SuperPay.me has a rich payment catalogue which caters to a variety of payment preferences. Members can withdraw cash and points using Payza, PayPal, Skrill, Bitcoin, Tango Gift Cards, and Amazon Gift Cards.
PayPal and Skrill are arguably the most popular e-wallet options; and with the many benefits of crypto payments, bitcoin is also becoming hugely popular. Then there are gift cards for those who want simplicity (albeit only for US users). You couldn't ask for better, as Amazon is arguably the biggest retailer, and the Tango cards can be used at a variety of known retailers such as Amazon, Starbucks, Nike and many more.
Cash-out Threshold
This is simply how much you must earn in SuperPay.me before you can request payment. Everyone will want a low cash-out threshold so that members will not stay in the site too long before they have a balance that they can cash-out. Thankfully, SuperPay.me is on cue. The minimum amount you can withdraw from SuperPay.me is $1.00. This is one of the lowest cash-out thresholds you'll find in the industry.
Remember that SuperPay.me gives a $0.20 join bonus. Thus, you'll have only $0.80 more to earn to be able to cash-out. With this, you can cash-out the very day you join SuperPay.me. However, know that if you want to get paid via Gift Cards, you'll have to accumulate a bigger balance because only $5.00+ gift cards are available.
Cash-out Speed
This is simply how long it'll take from when you request payment to when the payment hits your account. Everyone will want payment to be fast so that members will not be kept waiting for long. Thankfully, SuperPay.me is on cue in this regard. It is one of the fastest paying GPT sites.
According to its website, "the average pay-out time is approximately 4 hours, but you should allow up to 24 hours for the payment to arrive". Verified members can use the Instant PayPal option, and request one instant payment of up to $50 each day.
Cash-out Fees
Who does not like everything free? Unfortunately, SuperPay.me does not give free cash-outs. There is a 2% fee for the amount you withdraw to cover its payment processor fees. However, the 2% fee is for PayPal, and Skrill payment. When using Payza, the fee is 3%, and when using bitcoin, it is 10%.
Getting Paid – Hits and Misses
| | |
| --- | --- |
| SuperPay.me incentivizes posting payment proofs, so there are lots of payment proofs (even in independent platforms)Has a rich payment catalogue (payment options include Payza, PayPal, Skrill, Bitcoin, Amazon Gift Card and Tango Cards)Cash-out threshold is very low (just $1.00)Offers fast payments (with average pay-out time being approximately 4 hours) | 2% processing fee is charged for every cash-out (3% for Payza, and 10% for Bitcoin) |
Customer Support Service
Self Help
Questions are inevitable, especially if you're new to GPT sites. SuperPay.me provides answers to many common questions in its FAQ page. The sections of the FAQ page are: Membership Issues, Earning Cash & Points, Offers & Offer Walls, Referrals, Contests, and Shoutbox Moderator Assistance. Thus, the FAQ holds answers to questions from virtually every aspect of using the service. If you have any question, you may find the answers you need in the FAQ page.
Contact Help
If you'll rather get assistance directly from an agent of SuperPay.me, no problem! SuperPay.me has a support team ready to hear from you. Simply reach out to the team via online ticket or email.
To raise a support ticket, fill the online contact form in the "contact" page of the website; and for email support, simply send your enquiries to the email address: support@superpay.me. Also, the response time of SuperPay.me is impressive. All enquiries are answered in 24 hours. However, many members will receive answers to enquiries in only a few hours.
There's also a members Shoutbox in the website. This is a place where you can ask questions and expect answers from fellow members as well as from a moderator. However, we do not think the Shoutbox is effective as a support tool. This is because the Shoutbox is dominated by posts from SuperPay.me about points/ cash that particular members have just won.
The problem is that the SuperPay.me Shoutbox moderator does not address any post from members. Also, the messages from SuperPay.me are posted every other second, so they quickly push any real member posts down; so, members' chats are lost before other members see them and react.
Customer Support Service – Hits and Misses
| | |
| --- | --- |
| An FAQ is provided for self helpA support team is available that can be contacted directly for assistance (via online ticket and email)Response time is relatively fastThere's a members Shoutbox to foster member interaction | Instant feedback contact channels (like telephone and live chat) are not providedShoutbox is ineffective for getting assistance |
What Members are Saying
Positives
SuperPay.me enjoy a lot of positive reviews online. That is, SuperPay.me is highly rated in the leading customers' review platforms. For example, in Trustpilot, collating reviews from 1,792 customers, SuperPay.me is rated 4.6 out of 5. Also, in Reviews.co.uk, collating reviews from 858 customers, SuperPay.me is rated 4.79 out of 5. For what customers had to say in particular, read on.
Jwhite81219 in Reviews.co.uk says "easy way to make extra cash! Verified user and received payment fast via PayPal! Thanks"
Ziddy in Reviews.co.uk says "best survey site. never out of surveys, and 100% legit, and pays within 24 hours. I highly recommend this site. Really fast payout, and $1 dollar threshold for withdrawal"
Chris in Trustpilot says "I have been using this site for the past 2 years. It is a handy and reliable way to make some extra cash when needed. Lots of surveys, and fast payments"
Miranda N. Pack in Trustpilot says "very legit and actually pays out every time. Easy to do, with no shortage of payable tasks to complete. Surveys are normally quick with a decent pay-out"
Megan in Trustpilot says "I love this website! Great for when you have some spare time on your hands and want to earn some extra cash. Being a single mummy and working part time, this is a great way to earn some money on the side when free. It is time consuming and I do agree you have to have a lot of patience as some surveys can be quite long and can take a while to earn a lot, but with time, it is completely doable. Thank you!"
Complaints
However, it was not all positive reviews. SuperPay.me had its own share of complaints. A very popular complaint centred around the security check of SuperPay.me. For example:
Anonymous in Reviews.co.uk says "A short while after you begin to complete surveys, they will freeze your account and ask for a photocopy of your driver's license for name and address verification purposes. They are inflexible on this requirement. If you choose to sign up with this site, it would be a good idea to cash out early and often, so as not to strand too much of your balance when they freeze your account… I give this site 2 stars out of 5 because I was able to make a little bit of loot before getting frozen out"
Alessio in Trustpilot says "I've used this site for a couple of months. It was going well until they blocked my account for verification. I sent them my ID card for that and they told me I registered with another address…
Debashis Sinha in Trustpilot says "I was working in this site for 2 months but recently in my account a verification required message is showing, and my account is blocked. I raised ticket but no reply from support team. This happened when I redeemed my balance. Till now my payment is pending and no reply from support team"
Am Duric in Trustpilot says "I tried to withdraw my money, but my account got locked, even [though] i verified my phone number, and the money was on pending. I would really like you guys to reach out to me, i already wrote a ticket, on their website…"
SuperPay.me is famous/ infamous (depending on what side you choose) for locking accounts of its members if fraud is suspected fraud. While members generally appreciate the need for such security checks, the complaints are:
displeasure with how frequent account blocking occurs. Sometimes, users do not understand why their account is flagged for verification when it is not their first withdrawal, or after they must have gone through the process and have their account verified in the past
displeasure with the process of re-opening a blocked account. Sometimes, users do not appreciate how much documentation SiperPay.me requests.
displeasure with how long the verification take. Many times, users do not like that they cannot access their account and money earned for up to 60 days. Worse still, sometimes, the first 30 – 60 days will pass without the verification done, and you'll have to wait another 30 – 60 days.
That said, if you must use SuperPay.me, the possibility of having your account flagged for verification is real; and in the 30 – 60 days that'll follow, you'll not have access to the account. However, should you provide the required documentation, the blocked account will be re-opened.
Conclusion
SuperPay.me ticks all the boxes of a legit GPT site. It is backed by a reputable market research company; and it has a relatively fine operating record (it has been around for over 8 years, has paid out over $3.4 million to its members, and continues to pay).
Also, SuperPay.me has what you'll want from the ideal GPT site. Backed by many reputable providers of surveys and offers, there is no shortage of earning opportunities in SuperPay.me. Also, its payment threshold is just $1 (one of the lowest you'll find), so you'll not stay long in the site before you'll have a balance that can be withdrawn.
Also, SuperPay.me is one of the fastest paying GPT sites you'll find. So, after making that extra money, you can have it as fast as you want.
However, as the "hits and misses" sections of this SuperPay.me review show, it was not every aspect of SuperPay.me that got us excited. For example, we'll didn't like that there is no compensation to soften the blow of getting disqualified from surveys.
Then there's the issue of having your mind prepared that your account could be blocked at any time (pending a 30 – 60 days security check). However, on the whole, SuperPay.me comes out a solid GPT site. Its positives are wow.