Offernation review – If you got to this page, it's because you were looking simple and easy ways to earn some money online.
Offernation is one of the many GPT (Get Paid To) sites out there where members can earn some extra income by doing nothing more than they already do online every day.
However, the question is whether Offernation is worth it? First and foremost, is Offernation a legit GPT site? That is, can members actually earn money in the site, and will earners who withdraw actually receive payment? Also, does Offernation offer a good range of earning opportunities? Does it pay relatively well for completing activities? Does it offer low cash-out threshold, as well as fast payments? Does it provide effective members support?
This Offernation review will examine Offernation in order to provide the information that will help you answer these questions and also shows you all the sites like Offernation.
Introduction
| | |
| --- | --- |
| Website | www.offernation.com |
| Founded | 2013 |
| Owner | 99 Ventures Limited |
| Active Members | 114,819 (as of writing) |
| Availability | Worldwide |
What is Offernation?
Offernation is a reward site, or what is more commonly called a GPT (Get Paid To) site. It pays members for completing simple online tasks like taking online surveys, playing online games, watching videos, or even downloading the latest apps.
It's that simple! You find one of these tasks in Offernation, you complete it, and you get paid. Thus, Offernation helps people work from home to make some extra money.
Offernation was started in 2013. It is owned and operated by 99 Ventures Ltd. This company specializes in providing opportunities to make money online, as it is responsible for some other rewards sites like Rewardingways.com, and Superpay.me.
Companies want customers' feedback, thoughts and opinions; to be used for product improvement and new product development. These companies pay sites like Offernation to help get members thoughts; so Offernation can afford to pay members who participate in featured paid activities. As of writing, Offernation boasts of almost 115,000 members.
In our last review of Offernation (which was just over a year ago), it had just over 57,000 active members. This means Offernation doubled its membership base in a year, so it is one GPT site growing in popularity as the days come and go.
Is Offernation legit?
Offernation is definitely a legit GPT site. If you do not want to complete tasks and not get paid (thereby having wasted your time), you'll want to check that the GPT site is legit. Thankfully, there's no doubt that Offernation is legit.
First, Offernation comes from a reputable operator. 99 Ventures Ltd is a well-known market research company. It is a fully registered company in the United Kingdom (with registered business address at: Summit House, 4 – 5 Mitchell Street, Edinburgh, EH6 7BD, United Kingdom). Also, 99 Ventures Ltd has a couple of other sites to its name, and these are regarded as legit.
Secondly, Offernation has passed the test of time. As mentioned earlier, it was started in 2013, which means its been around for 7 years. This is enough time for a scam outfit to be revealed. However, in its operation, Offernation has shown itself far from a scam. For example, there's no doubt that it pays members.
An important stat on website (as of writing) is that it has paid out $923,323.78 to members. Scam GPT sites operate in two ways: (i) you complete tasks but do not get credited (ii) you are credited after completing tasks, but do not get paid when you request payment. However, Offernation has shown itself to do neither.
Generally, it credits members who complete tasks, and it pays those who request payment. You'll find Offernation payment proofs in different spaces. To find this in the Offernation website, go to the "members withdraw list".
If you do not trust such self-published information, you can do a simple online search and you'll find (in independent platforms) different earners from Offernation and their payment proofs.
Thirdly, Offernation is endorsed by virtually all industry watchdogs – independent review sites. These sites will bite and chew any scam GPT site found to not pay members.
However, Offernation has found favourable ratings industry-wide.
That said; with Offernation backed by a 100% legit and reputable market research company, having a relatively long operating record (where it has shown itself to pay members), and endorsed by industry watchers, it can only be a legit GPT site.
Is Offernation Safe?
Using a GPT site will require you giving up a ton of data about yourself. Thus, the ideal GPT site should ensure that users' data is well-protected. Thankfully, we can answer that Offernation is a safe GPT site where you can be confident that your sensitive data will not leak out to unauthorized third parties.
In their words: "We store your personal data as securely as we can on secure servers. All reasonable steps necessary to ensure your data is adequately protected and processed… We DO NOT pass your personal data to third parties…" Digging deeper, we found that Offernation utilizes some of the highest data security techniques including SSL (Secure Sockets Layer) technology, which is a bank-grade technology. Thus, if you have no security fears when submitting your sensitive data to your bank, then you should have no fears when submitting your data to Offernation.
Who can use Offernation?
Interestingly, Offernation is a world-facing GPT site. That is, you'll be able to join and earn from it no matter where you are located. Persons 18 years and above from any country of the world can create an Offernation account and use the site.
However, earning opportunities differ country by country. Persons in the US, Canada, Australia, and a few other European countries will find more earning opportunities than persons from other places.
Sites Like Offernation
There are other popular and legitimate sites like Offernation. These sites are regarded as Offernation similar sites or alternatives because they have the same earnings features, number of high paid surveys etc.
Below are the sites like Offernation:
Earning Potential
| | |
| --- | --- |
| Welcome Bonus | $0.25 |
| Ways to earn | Surveys, watch videos, click PTC ads, play games, download apps, sign up for trial services, contests, referral program |
| How it pays | Cash + Points (100 points = $1) |
| Mobile Compatibility | Yes |
Getting Started
First and foremost, it is free to join Offernation. In Offernation, you'll be off to the races very quickly. In the website, the "Join Free" button cannot be missed. Hit it, and fill the registration form that opens up. You'll be done in about a minute.
However, to have access to many earning opportunities, you'll need to answer a profile survey. This is to get as much information from you as possible, so that Offernation will know what surveys and offers it can direct you to.
Know that Offernation gives a fine welcome bonus of 25 cents ($0.25). While this may be smaller than you'll find in some other sites, it does not come with any condition. In some survey sites, you'll have to meet certain conditions (like earning a particular amount within a particular timeframe) before you'll be credited welcome bonuses.
Needless to say, not everyone meets such conditions; meaning some will miss out on the welcome bonus that enticed them to the site in the first place. However, in Offernation, new members are credited its modest $0.25 welcome bonus straight up.
Mobile Compatibility
Interestingly, Offernation is compatible with mobile devices. With the portability of mobile devices (smartphones, and tablets), you'll be able to complete tasks and earn whenever and wherever; gone are the days of going to sit before your desktop devices to "get to work".
Know that there is no Offernation app. You'll be visiting the website from a web browser in your mobiles. Also, the website is not mobile-optimized – all pages do not automatically resize to fit your screen size. However, the mobile experience is just fine.
Ways to Earn in Offernation
One of the things to consider when looking at GPT sites is whether one can earn in a variety of ways. Thankfully, Offernation ticks this box. You can earn from: paid surveys, paid offers, contests, and more
Paid Surveys
Offernation is primarily a survey site, so the main earning activity is answering survey questions. Importantly, there are many survey opportunities. Offernation works with a lot of survey portals which gives you surveys you can take. You'll find Daily Paid, Tap Paid Surveys, Revenue Surveys, and many others.
Being that these are third party survey providers, you'll have to answer pre-qualification questions. Many people frown at this, but it is essential because surveys are targeted at particular profiles so that only quality feedback is obtained.
For example, if a survey is about travel destinations, the advertiser will first want to know if the survey taker is a "travel" person. That said; from answers to the pre-qualification questions, you may be disqualified from a survey (not allowed to take it to completion).
Disqualifications can be frustrating, especially when one has spent considerable time and effort on the survey. However, it does happen. Some survey sites ease the pain of disqualifications by giving a token. However, Offernation does not give members anything when they are booted out of surveys. This is one aspect of the site we'll like some improvement.
However, with Offernation able to offer so many surveys, if you are booted out of some, you can be sure of finding some others that you'll do to completion for some earnings.
Paid Online Surveys typically pay between $0.50 and $5.00. So, don't go dreaming of becoming rich in Offernation (or any GPT site for that matter).
Sign-up for Offers
It is because of its Paid Offers that Offernation is simply not a survey site but a GPT. That is, here you earn not only from taking surveys, but from a doing a lot of other stuffs. Hitting the "Offerwall" button after logging in, you'll find offers from a host of third-party providers (like Peanut Labs, Offertoro, SaySo Rewards, Persona.ly, and more).
The Offers are varied, allowing you to earn in different ways. If you're big on surveys, you'll find additional surveys to do and earn.
If you want a break from the surveys: you'll find videos you can watch to earn; you'll find invitation to download some apps and earn; you'll find PTC (Paid To Click) ads to click and earn; you'll find free games you can play and earn; and you'll also find invitation to sign up for free trials of services and earn.
However, you'll want to pay attention to the fine prints, especially when signing up for free services. Some will require your credit card information; and this is a signal that after the free trial, you'll be automatically subscribed. Yes, you can cancel; but will you remember to?
How much you earn from offers varies, depending on the particular offer (the advertiser and the requirement). However, the games do well (with rewards ranging from $2 – $20 depending on the game and your participation), while the PTC ads do very poorly (with rewards typically half a cent or even lower).
Contests
You can also earn from Offernation's Quarterly Contests, where the top 20 earners of the site in each quarter (3 months period) share a $1,000 cash prize. It works out as follows:
| | |
| --- | --- |
| Positions | Cash Prize |
| 1st | $350 |
| 2nd | $200 |
| 3rd | $100 |
| 4th – 5th | $50 |
| 6th – 10th | $30 |
| 11th – 20th | $10 |
If you need some motivation to step up your activity in the site, the Quarterly Contest is it. By simply earning "big", you get an additional cash reward. It's also wonderful that this Offernation reward system is neither some "lucky prize draw" where your fate is out of your hand, nor a "winner takes all" prize where only one member is rewarded (it's easier to get into the top 20 than to be the top 1).
Referral Bonus
You can also earn from Offernation's referral program. It's simple and straightforward. In its words: "You earn a full 25% of any income your referral earns at our site for life". That is, if you can get persons to join Offernation using your referral link, you'll earn 25% of whatever they earn from completing surveys and offers in the site. Thus, if you can build an army of downlines, you'll earn a relatively large passive income through referral commissions.
How Offernation Pays
Offernation uses the "cash + points" payment system. That is, after completing some of its surveys and offers, sometimes you get cash straight up; but other times, you get points which you can later turn to cash. 1 point is the equivalent of $0.01, so 100 points make $1.00.
Getting Paid
| | |
| --- | --- |
| Overall Pay-outs | $923,395.20 (as of writing) |
| Payment threshold | $1.00 |
| Payment Options | Amazon Gift Cards, PayPal, Payza, Skrill, and Bitcoin |
| Payment Time | Within 24 hours |
| Payment Fee | 2% (3% for Payza, and 10% for bitcoin) |
Payment Proofs
As mentioned in the legit section, Offernation pays. It has been around for only 7 years, but it is already closing in on $1 million in pay-outs. In our last review of Offernation, we reported that it had paid out over $600,000 in cash to members.
But this, time around, it has done over $300,000 more. Thus, Offernation has not stopped paying. If anything, it has stepped up the payment, as its members have increased. Another stat we found is that over 1,000 members are paid every week.
More importantly, there are evidence of payment (payment proof). The "withdrawal list" page of the website will show you persons who've been paid (including amount received, payment method used, and date of payment). That there have been many Offernation pay-outs is seen as the withdrawal list is 7,089 pages long (see picture below).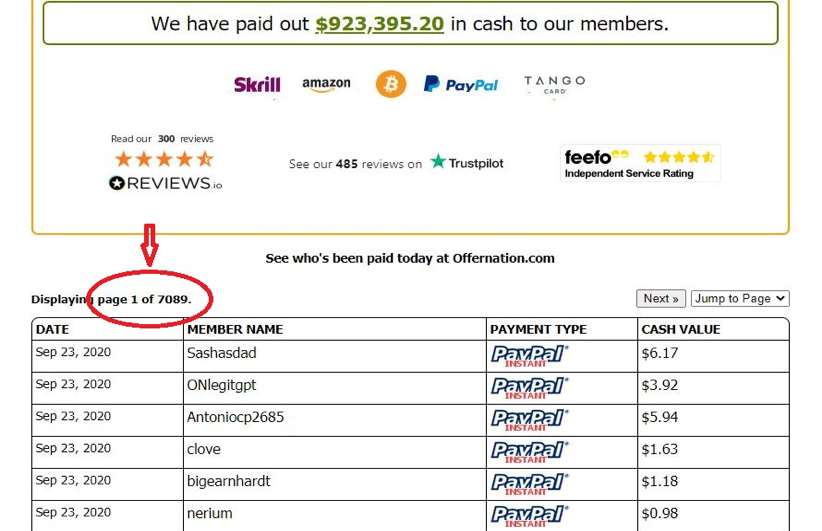 Also, know that payment proofs are not limited to the Offernation website. You'll find many in different online platforms. One reason for this is that Offernation pays members who post their payment proofs in any other internet forum.
Payment Threshold
In other words, what is the minimum amount you can withdraw? The minimum amount you can withdraw is $1.00.
If you want another reason to join Offernation; this is it. With its rock-bottom low cash-out threshold, you do not have to accumulate a large account balance before you can request payment. Do a couple of tasks (it could even be just one task), earn at least $1, and you can pull it out.
This means you won't be staying long in the site before you get the feel of payment. With the welcome bonus boost that you get when you sign up, you'll be ready for cashing out before you know it.
Payment Catalogue
In other words, what payment options are provided? Members of Offernation can request payment using any of the following: Amazon Gift Cards, PayPal, Payza, Skrill, and Bitcoin. This is a relatively fine list of payment options.
Given the strides that the crypto currencies have made in online payments, it's particularly heart-warming to find that Offernation also supports bitcoin. However, you can only get paid via Amazon Gift Card, if you have received at least one cash payment.
Cash-Out Speed
In other words, how long does it take to get paid? Definitely, no one wants to request payment, and sit for ages waiting for it. Thankfully, Offernation is relatively fast when it comes to paying. It gives out some interesting statistics, such as:
issue 95% of verified payments in under 8 hours
around 50% of payments are in your account in less than 2 minutes
the average payment time is less than 4 hours
all verified payments will be issued within 24 hours of requests
No, these are not just fanciful stats. Offernation is really one of the fastest paying sites around. Many persons will be able to receive their payment instantly, while others will receive their payment a few hours from requesting it. However, you should always allow up to 24 hours for your payment to be received.
Cash-out Fees
Let's face it, everyone will want free withdrawal. After earning that "little extra income", no one will want even a fraction of a cent going away. Unfortunately, Offernation charge fees to help cover payment processor charges. There's a flat 2% fee for processing and sending your money (but it is 3% for Payza, and 10% for bitcoin)
Customer Support Service
| | |
| --- | --- |
| Self-help FAQ | Yes |
| Contact Support | Yes (via email) |
| Response time | Within 24 hours |
It doesn't always go as planned. So, the ideal GPT site should provide for handling players' questions/ issues. Offernation ticks this box.
Self-Help
An FAQ section is provided where you can check for quick answers to your questions. The FAQ has various section prepared to answer the most common questions; these sections are: Membership Issues, Earning Cash & Points, Offers & Offer Walls, Referrals, and Contests. Offernation recommends that members who have questions should first browse the FAQ.
There's also a members' chat area, which is supposed to be a destination to where members interact and can help themselves with answers to certain questions. While some chatting happens in the "members chat area", it is largely ineffective as it is populated by automatic posts by Offernation about what members have earned. For example, in the picture below, the Cheiba's post about how the survey [site] works will easily get lost in the many Offernation's post that precede and follow it.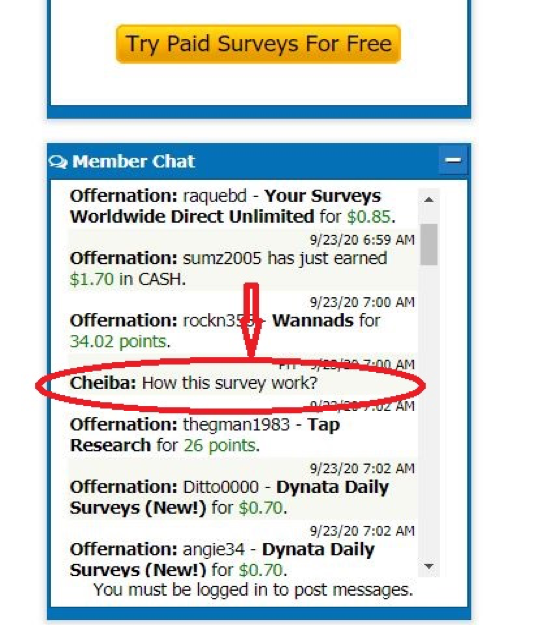 Contact Help
If the FAQ does not answer your questions, you can raise a support ticket in the "contact" page of the website. You'll include your email in the contact form, and you'll be contacted via email. Most responses come within 8 hours, but you should allow for 24 hours.
What members are saying
Positives
We'll say this upfront, Offernation is one of the best GPT sites out there. You'll find that it has high scores in the independent review platforms. For example, in Trustpilot, it is rated 4.6 out of 5; and in reviews.co.uk, it is rated 4.78 out of 5. These high ratings are because members have only good things to say about Offernation. For example:
MandJlovesme in reviews.co.uk says "This is one of the best sites. I was very surprised how quick the payout was. Thank you Offernation"
Edwinelijahd in reviews.co.uk says "Offernation is the leading survey giving website. I recommend them highly"
Sameerrahman in reviews.co.uk says "Very good survey site. They pay almost instantly, and their help support reply very quickly. MUST TRY!!"
Debbiewise606 in reviews.co.uk says "love Offernation.com. Every little bit helps especially now. So many surveys so it doesn't get boring. Always prompt on the rewards too! Thanks Offernation.com! Keep 'em coming please"
Victoria Leary in Trustpilot says "I love the fact that you can earn daily watching videos, doing surveys, and offers. Also, cashout within 24 hours. Easy Cash"
Andrea Wiles in Trustpilot says "a great rewards site for earning a few extra pennies on surveys and different offers. Fast Payout to PayPal… so get signing up, you got nothing to lose"
Darren Heslop in Trustpilot says "This is the best GPT site I have ever used. I have made over $1,000 since I joined them. And very low cashout of just $1. Instant PayPal payment"
Type Eltzman in Trustpilot says "Offernation is one of the sites that I would highly recommend. Bunch of offers of different kinds. Good payouts. Also, fast payouts"
That's the narrative; members highly rate Offernation. They always point to one of or a combination of: many surveys and other earning opportunities, low cash-out threshold, and fast payouts.
Complaints
Mind you, no matter how well a service operates, there's always room for improvement. Thus, you'll always see customer complaints. In fact, this is a fine way to gauge how good a service is – too many users' complaints may be a warning flag, while very few complaints could be a sign that all is well.
That said; the last time we reviewed Offernation, we reported two things that didn't get us excited: (i) too many users complained of being locked out of their accounts for up to 60 days for account verification, and (ii) Offernation's responses to such complaints were basically like-for-like throws of insults. Thankfully, in this review of Offernation, we can say that things have improved drastically.
On the former (the 30 – 60 days account locking), if Offernation suspects any account of fraud, the account is blocked; and it'll take up to 60 days for the account to be verified and re-opened. Offernation maintains that the "30 – 60 days" verification process is an essential security measure, without which it will not be the legit GPT site that it is.
We understand the need for security procedures and "verification checks" (as do many other users); the reason for the cries included: such account blocking was too frequent, and the verification process for re-opening blocked accounts took too long.
However, in examining Offernation for this review, we noticed that complaints about its 30 – 60 days verification check had thinned off. Mind you, the process still exists. That is, if an account is suspected of fraud, it'll still be blocked.
However, in recent times, the independent review platforms are no longer flooded by complaints about the process can only mean that the rate of account blocking has drastically reduced. That is, now no one will say his/ her account was blocked "for no reason".
On the latter (Offernation's responses to users unhappy with the 30 – 60 days' verification process), we can say the support service is now more professional. Unlike the like-for-like insult slings that characterized their responses in the past, we now saw more professional responses.
To appreciate how much the complaints have thinned from out last review of Offernation and this review, note the following. As of this review, Offernation scored 4.6/ 5; but as of the last review, it scored 3.7/ 5. However, there were still a few complaints, which centred on disqualifications from surveys. For example:
Scorpiana3 in reviews.co.uk says "They pay for real and almost immediately, but often you do not qualify for surveys…"
Sare in Trustpilot says "Endless loop. Don't waste your time in this, spent a lot of hours signing for surveys, 0 qualification, with repeatedly annoying questions that should have been automated upon creating the account"
As mentioned in the review, you should not expect to qualify for all reviews that you attempt. Offernation give the reason as follows: "we provide a platform where you can access paid surveys from a variety of different survey providers. Each provider and survey will have its own requirements for what is required to access those surveys, and most will ask initial questions to see if you qualify. We do not provide the surveys directly, so cannot provide a service where information in provided in advance".
However, as we pointed out in the review, the frustration of getting booted out of a review after dealing with many questions will be softened if a token is paid. Some other GPT sites do this, and we hope Offernation will look into doing it soon.
Conclusion
There's no doubt that Offernation ticks many of the right boxes. Talking of earning, it has lots of surveys, many other ways to earn; and rates are fine. Talking of getting paid, it has a very low cashout amount, and it is one of the fastest paying GPT sites.
Yes, Offernation is a legit GPT site; so, you can actually earn using it, and you'll be paid. Many persons have been using Offernation to get that little extra income (as evidenced by the many Offernation payment proofs in different online forums).
Yes, there are a few "misses" (as shown by the cons section below). However, these should not be deal-breakers. On the whole, Offernation makes a solid GPT site. Get started here: www.offernation.com.
ALSO SEE: https://bestpaidsurveys.reviews/high-paying-surveys-that-pay-through-paypal
Pros
It is free to join
A legit site that comes from a reputable company (99 Ventures Ltd)
Has a relatively long and fine operating record (7+ years of consistently paying members)
It is available to persons worldwide
It offers lots of surveys from different providers
A variety of ways to earn – paid surveys, paid offers, watch videos, download apps, contest, and more
It is mobile compatible, so members can complete tasks and earn even on the move
Has a relatively modest but conditions-free welcome bonus which is $0.25
Generous referral program (25% of referrals' income)
Low cash-out threshold ($1.00)
Supports a variety of payment options (Amazon Gift Cards, PayPal, Payza, Skrill, and bitcoin)
Payment is relatively fast – verified accounts can get instant payment, and all payments are sent within 24 hours
Customer support is available via email, and response time is relatively fast (within 24 hours)
Cons
Does not have an app, and the website is not fully optimized for mobile
Does not compensate players who are disqualified from surveys
The members chat area is largely ineffective because messages can easily be lost in the many automatic posts from Offernation
A 2% processing fee is charged (this increases to 3% and 10% for Payza and bitcoin respectively)