ySense review – If you are looking to earn extra money online, ySense says it may be the perfect solution for you. It is a rewards website who work with market researchers and others who rely upon the power of consumers, so it offers a variety of reward opportunities like answering surveys for money.
The big question is whether ySense is a legit reward site that'll actually pay you for completing simple online tasks, or whether it is a scam site promising easy money but intent on stealing your money or wasting your time. ySense is legit. You'll know why as you read on.
Another question is whether ySense is the ideal reward site. That is, why choose it over other legit reward sites? Does it provide a variety of earning opportunities, does it have a variety of payment options, is cash-out amount low, is payment fast, etc?
This ySense review will examine ySense in other to provide the information that will help you answer these questions and also shows you all the legitimate sites like ySense.
General Intro
What is ySense?
ySense is a rewards website, or what is more often called a GPT (Get Paid To) site. In GPT websites, you get paid when you complete-featured tasks. ySense appeared on the web in about 2019.
However, its roots can be traced back to 2007. This is because the 2019 appearance of ySense was a rebranding of its former self – ClixSense.
ClixSense, which was started in 2007, was a rewards website that operated as a PTC (Paid To Click) website. That is, members earned from the site from clicking on and viewing PTC ads.
However, as the site expanded more earning opportunities were added, including taking surveys, playing games, and more. So ClixSense grew from being a PTC website to a GPT website. That is, it grew from being a website where you earn by clicking ads, to being a website where you earn by doing a variety of things.
However, the Clix in the name (ClixSense) still made it sound like a Paid-To-Click website, and it had to go. Hence, the 2019 rebranding that birthed ySense.
ySense is now owned and operated by Prodege LLC. In fact, its acquisition by Prodege LLC had a major hand in its expansion and rebranding in 2019. Prodege LLC an American online market company that is one of the biggest in the world. It operates other popular reward sites like Swagbucks, MyPoints, and ShopAtHome.
Is ySense legit?
Yes and Yes, ySense is legit. We mentioned this at the onset, so this section is more about why we think ySense is legit.
First is its operator profile. It is operated by Prodege LLC, which is a 100% legal and very reputable company. Prodege LLC is a fully registered in the US. Also, it operates one of the most popular and biggest rewards site (Swagbucks). With such a robust company behind ySense, it is less likely to be a scam GPT site.
Second is its operating record. As mentioned earlier, this reward site can be traced back to 2007, so it's been around for over 13 years. A GPT site that is relevant for this long a time can only be legit. Scams are found out fast, and they go under almost as soon as they are found out.
However, ySense has only grown stronger – moving from its early days as a PTC site to a full GPT site. More importantly, in its 13 years, ySense has consistently paid members.
As of writing this review, it has paid out about $40 million. ySense payment proofs can be found all over the web. Scam sites do not pay. Thus, having been around for over a decade and with a record of paying, ySense can only be legit.
Is ySense safe?
Using a rewards website entails submitting a ton of personal information (sometimes, even credit card information). Thus, the ideal rewards site should ensure that users' data is well-protected. Thankfully, ySense ticks this box.
It uses industry best practices and techniques. Among the latter is SSL (Secure Sockets Layer) technology which uses bank-level encryption o scramble users' data before transmitting it. So, users' data cannot be intercepted as it travels over the internet; and even if intercepted, it cannot be read.
Who can use ySense?
Who wouldn't want opportunities to earn extra money online? Virtually everyone will want those opportunities, but many reward sites limit their services to the US and a few other countries.
Thankfully, ySense does not. It says it is a reward website for persons "from all over the world" looking to earn extra money. Thus, your territory will not stop you from registering in ySense and using it to earn some extra money online to supplement your regular income.
More so, ySense has a friendly age requirement. While many reward sites accept registration from only persons 18 years ad above, ySense accepts registration from persons younger. ySense members must be at least 13 years old in the United States or at least 16 years old in any other countries. Thus, even younger students are able to earn from ySense.
Sites like ySense and Alternatives
There are also other popular and legitimate sites like ySense. They are known as ySense alternatives. The reason they are called sites similar to ySense is that they share the same earning features and similar payment methods.
Below are sites like ySense:
General Intro – Hits and Misses
It is operated by the US-based and highly reputable Prodege LLC.
It is vastly experienced having started in 2007 (albeit as ClixSense – a PTC website)
It has seen many evolutions but remains very relevant for earning extra money online.
It keeps users' data safe using industry-standard procedures including SSL technology.
Accepts membership worldwide.
Allows registration from persons 13+ years in the US (16+ years in other countries).
Using ySense to Earn
Getting Started
As always, you'll need to register to be a member. First, registration is absolutely free. Thus, you can use ySense without fear of losing anything. Also, the registration process is very easy.
Simply enter your email address and password in the registration page in the homepage and hit "Join Now". Then you'll provide your names and username, and you're in.
A verification link will be sent to the email address you provided. If you had an account with ClixSense, you can log into ySense with the account details.
Mobile Use
Who wouldn't want to be able to earn even while on the move? ySense gives that as it is mobile friendly. That is, you can fire up the ySense website and use it on your mobile devices.
Importantly, the site is optimized for mobile devices. The pages resize to fit the smaller screens of handheld devices, so you'll not have to drag pages left and right to view them in full.
ySense does not have mobile apps yet. However, with its mobile optimized website, you can earn from the site anywhere you may be. Thus, when commuting from point A to B, instead of just gazing out the window, you can fire up ySense in your mobile device and complete tasks to make some money.
Ways to Earn
The move from the PTC ClixSense to the GPT ySense is so that more earning opportunities can be provided for members. Thus, ySense provides different ways to earn. Whether it is taking surveys, completing online tasks, or completing other offers, there's something for everyone to easily make money online.
Surveys
You'll find a lot of survey opportunities in ySense. You simply give your opinion in market research surveys, and you'll be rewarded with cash. ySense is able to provide many surveys because it uses a lit of third part survey providers.
These include Sample Cube, Samplicio.us, Pure Spectrum, Opinion Surveys, Tap Research, and more.
The surveys are usually short, taking 5 to 30 minutes. How much each survey pays differs depending on various factors that include length of survey, subject and complexity of survey, etc.
For example, when rounding up this review, we logged in, and in the survey area, we found different surveys that included the following:
| | | | |
| --- | --- | --- | --- |
| Survey ID | Provider | Time to complete | Pay-out |
| 2328003 | Sample cube | 10 mins | $0.62 |
| 2304157 | Samplicio.us | 30 mins | $3.26 |
| 2304681 | Pure Spectrum | 14 mins | $4.50 |
However, to unlock the cash surveys, you'll have to complete a profile survey. This is important because particular survey providers want answers from only particular type of respondents; and it is your profile that ySense initially uses in deciding to invite you to participate in particular surveys and cash offers.
For example, for baby products brand wanting customer insight, the survey will target: persons having babies, persons having babies in their household, soon to be parents, persons who care for babies, etc.
Persons whose profile do not match the targeted profile will not have the surveys available to them. Know that for completing your profile survey, you'll earn $0.05.
However, it should be said that having completed the profile survey and being invited to take particular surveys does not mean you'll be allowed to take the surveys to completion.
ySense uses your profile survey to send you to surveys that you are likely to qualify for. That means, the survey provider makes the decision on whether you are the respondent they are looking for.
So, you'll start the survey and answer a bunch of questions before your suitability is established. If at any point in the survey, it is decided that you are not suitable for the survey, you'll be disqualified and not allowed to take the survey to completion.
This means you'll not receive the cash reward that the survey promised. ySense does not give any compensation for disqualifications. Thus, the time and effort used in any survey before suffering a disqualification is essentially wasted.
Offers
You'll find a lot of things to do earn some money in the "Offers" section. Some of the offers are in-house offers provided by ySense, while the majority are provided by third party providers like Wannads, Revenue Universe, Offer Toro, ayeTStudios, Ad Gate, Adscend, Peanut Labs, and AdGem.
The offers are varied. For example: you'll find short surveys that you can do and get rewarded instantly; you'll find invitation to download music, videos, and apps; you'll find invitation to install and play games; you'll be able to earn from doing fun quizzes, you'll find invitation to signup for online services, and more.
Just as the offers vary, so too the pay-outs. It can range from few cents to $10+.
Many of the high-paying offers will require you to make a purchase. For example, when we checked ySense offers as of writing this review: the pay-out amount of one was $54, but you'll have to purchase a 2 years plan of a VPN service; the pay-out amount of another was $20, but you'll have to purchase an 18-months VPN subscription.
You'll know these offers requiring payment right away as your credit card information will be requested.
However, there are also some "free" trial offers that'll still require your credit card details. But these ones will automatically sign you up as a paid subscriber after the trial period.
If you do not want to pay for any service, make sure to cancel your subscription before the end of the trial period.
However, in some of these offers, you cannot earn unless you remain subscribed past the trial period. One such "free trial offer" as of writing is a ySense offer to sign up for a 14-day free trial with Auro (an audio workout service provider); you can only earn the $10.00 offer pay-out amount if you stay subscribed past the 14-day trial period (that means being charged as a paid subscriber at least once).
Complete Tasks
In the "tasks" section of the website, you'll find simple tasks that you can do to earn some pennies. These tasks are provided by Appen (formerly Figure Eight and Crowdflower).
They include simple stuffs like visiting other websites, categorizing images, and more. These tasks generally have low pay-outs amounts – a couple of cents.
However, if you put in serious effort, you can score a fine bonus. There's a $5 for $50 promotion, where for every $50 you earn, you'll receive a $5 bonus.
Weekly Contests
Every week, the top ten earners in ySense will earn a total of $100 in bonuses. Everyone has a shot at winning the cash prize; simply step up your earnings, and finish as one of the top ten earners in the site. The $100 cash bonus is shared as follows: 1st = $50; 2nd = $20, 3rd = $10, 4th and 5th = $5 each, 6th to 10th = $2 each.
Referrals
ySense has a fine referral program where members can earn good amount of money. Members earn in two stages – there are sign up commissions and activity commissions.
The signup commission is what ySense gives you whenever someone joins using your referral links; and the activity commission is what ySense gives you whenever your referrals earn in the site.
The signup commission is $0.10 or $0.30 depending on where the referrals originate. For every referral from top tier countries, you'll receive a $0.30 commission; but for every referral from other countries, you'll receive a $0.10 commission.
The top tier countries are: Australia, Austria, Belgium, Brazil, Canada, Chile, Denmark, Finland, France, Germany, Greece, Hong Kong, Ireland, Israel, Italy, Japan, Malaysia, Mexico, Netherlands, New Zealand, Norway, Poland, Portugal, Saudi Arabia, Singapore, South Africa, South Korea, Spain, Sweden, Switzerland, Thailand, United Arab Emirates, United Kingdom, and United States.
In addition to the sign-up commission, once your referrals earn their first $5.00 (excluding commissions and bonuses), you will also earn an extra $2.00 bonus.
The activity commission is 20% – 30% depending on the number of referrals you have. When you join ySense, you're started with a 20% commission – you earn 20% of whatever your referrals earn (from surveys, offers, and tasks).
If you have a minimum of 100 active referrals, with at least one transaction in the past 30 days, you'll get an additional 5% commission, making your referral activity commission 25%; and if you have a minimum of 200 active referrals, you get an additional 10% commission, making your referral activity commission 30%. Thus, you can be earning 30% of whatever your referrals earn.
Daily Checklist Bonus
Another way to increase your earnings in ySense is its Daily Checklist bonus. From this program, you can earn up to 16% bonus daily.
The daily checklist bonus itself is 12%. You'll earn 12% bonus any day you complete any of the following: at least 10 figure eight tasks, at least 2 offers or surveys, or at least 5 tasks and 1 survey.
Then there's a 2% "Activity Extra Bonus" to be earned whenever you complete the checklist 3 days in a row. You'll earn the 2% bonus every day as long as you continue to complete the checklist.
But any day you fail to complete the daily checklist, everything resets; and the 2% activity extra bonus stops until you are able to complete the checklist 3 days in a row. Then there's a 2% ySense "Addon Extra bonus".
The ySense browser Addon is a feature designed to help users keep track of their account status. If you have the browser Addon, you'll receive notifications of new surveys and tasks.
Even more important is that running the Addon for at least one hour a day will earn you a 2% bonus. With the 12% daily checklist bonus, the 2% activity extra bonus, and the 2% addon extra bonus, you can earn 16% bonus every day.
Using ySense to Earn – Hits and Misses
It is absolutely free to use.
Registration is very easy.
ySense operates a mobile-optimized website allowing members earn on the move.
There are many ways to earn like taking surveys, and completing tasks (signing up for services, playing games, downloading apps, etc).
There are many survey opportunities.
There is a generous referral bonus for earning up to $0.30 sign up bonus, an additional $2 bonus, and up to 30% commission on referrals' earnings.
There are different bonuses including being able to earn 16% bonus daily
Misses
There is no compensation for disqualification from surveys
Getting Paid
Payment Proofs
ySense pays. That's the ultimate sign of its legitimacy. As of writing, ySense has paid out about $40 million to its members (that's also counting its days as ClixSense).
There are many ySense payment proofs in the web, both in the ySense website and in independent platforms.
Like most GPT sites, ySense encourages posting its payment proofs, and even incentivizes this by giving some token cash rewards.
How ySense pays
ySense uses the cash system. This means that upon completing tasks, you're credited with cash straight up. Most GPT sites out there use the points system where members are rewarded with points after completing tasks, which they can later convert to cash.
But ySense gives you cash straight up, and saves you the unnecessary go-around of converting points to cash.
Payment Options
Money earned means nothing when sitting in your account in a GPT site. The payment options are simply how you will get paid. ySense supports a number of options including non-cash options and cash options.
The non-cash options are Amazon gift cards and tango cards. These are fine options because Amazon is one of the web's biggest retailers, while the tango cards makes payment flexible as they can be exchanged for gift cards of a wide range of stores.
If you want cash payment, the cash options are: PayPal, Payoneer, and Skrill.
Payment Threshold
This is the amount you must have earned before you can cash-out. You'll want this to be as low as possible.
Though its payment threshold is not the lowest you'll find, ySense does fine in this regard. You'll find a lot of $5 gift cards in the rewards page. However, should you need cash payment, you'll need double the $5 minimum amount.
This is because PayPal payment starts from $10. These are fair payment thresholds which means that you'll not stay too long in the site before you'll be able to cash-out and enjoy your money you've earned.
Payment Speed
After cashing out, how long do you have to wait before you receive the payment? Everyone will want payment arriving speedily so that they'll not have to wait for too long. Unfortunately, ySense payments do not come speedily.
According to the website, it takes 5 – 7 business days to process payments. It even adds that sometimes it could take longer. If your account is less than 30 days old, or it is your first cash-out, it'll take up to 15 business days to process your payment.
These timeframes are definitely not fast, especially if you consider that there are GPT sites advertising same-day payments and even instant payments.
Getting Paid – Hits and Misses
Hits
Uses the cash systems – pays with cash (not points) for completing activities.
Has paid out about $40 million; and there are lots of payment proofs as evidence.
Supports fine payment options (Amazon gift cards, Tango cards, Skrill, Payoneer, and PayPal).
Payment threshold is fine – just $5.00.
Misses
Payments are not received speedily, as the processing of payment takes 5 – 7 days (and could even be longer)
Customer Support Service
Self Help
Should you have questions, ySense provides the answers you'll need. There's an FAQ page where members can go to quickly find answers themselves. To aid navigation, the page is arranged by the following topics: General/ Account/ Privacy, Surveys and Tasks, Offers, and Referrals.
Contact Help
There's also a support service that you can directly contact for assistance. For this, you'll have to submit an online contact form. You'll find a "submit request" button in the various FAQ articles.
By this method, you're submitting a request by topic which makes it easier to investigate and treat. ySense promises to answer support tickets within 48 hours. This is not the fastest response time, but it should satisfy many.
However, we'll still want to find support channels that give instant feedback (like telephone and live chat). Members who log into their account can access a chat feature. But this is manned by a bot.
Customer Support Service – Hits and Misses
Hits
Has a detailed FAQ where members can quickly find answers to their questions.
Provides a support team that can be directly contacted (via a ticketing system) for assistance.
Responses to support tickets is within 48hours which is fair.
Members can access a chat feature.
Misses
The chat feature is manned by botsSupport channels that provide instant feedback are not available
What Users are Saying
Positive Reviews
As of writing, ySense boasts a Trustpilot rating of 3.9/ 5, and a Sitejabber rating of 3.4/ 5. These are good overall ratings which tells you that there are many positive reviews of ySense.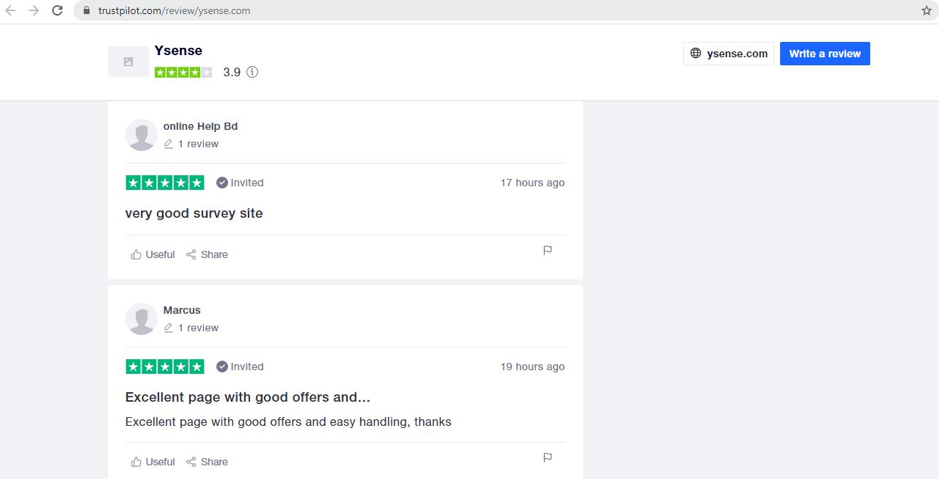 In Trustpilot, you'll find members hailing ySense: for being a legit GPT site where they have earned money and have been paid (e.g. Marcus, Sam Poles, etc), for having a lot of earning opportunities (uma, Jesus TheChanguero, etc), for making it easy to cash out (Sandra Benier) and more.
Also, in Sitejabber, you'll find members hailing ySense: for having earned in the site and have been paid (Shawntay W, James K, and more).
Complaints
However, that the rating in Trustpilot and Sitejabber are not perfect means there are complaints. For example: In Trustpilot, you'll find members complaining: of being frequently being disqualified from surveys after spending considerable time in them (Paula Bruce, DDuggle BBuggle, PoeticConder, and more), that payment takes an extra-long time to come (Connie Wallick Arnold), and more.
Also, in Sitejabber, you'll find members complaining: of ySense having a high rate of disqualification (Dmitriy V, Prathap K, Daniel L, and more), and of payment taking too long (M R, and more).
It should be said that disqualifications from survey is one of the most common complaint. Granted, disqualifications from surveys is something that happens in all survey sites and GPT sites, but the numerous complaints about it can only mean that the rate of disqualifications is quite high in ySense. In a support article, ySense gives two reasons for survey disqualifications.
The first reason is demographic. As explained earlier in this review, surveys are targeted at particular persons, so if your answers show that you are not the type of person they are looking for to survey, you'll be disqualified, and your data will be excluded from the final results.
The second reason is inconsistencies. Survey providers want relevant information. So, some surveys may ask you the same question twice (at different times in the survey) to make sure you are paying attention. Conflicting answers means you are not paying attention, and will result in disqualification.
Thus, paying attention and providing honest and consistent answers can improve your chances of taking surveys to completion. However, the hurt of disqualifications will be lessened somewhat if token rewards are given (as you'll find some GPT sites doing).
However, ySense leaves you empty when disqualified from a survey meaning whatever time had gone into the survey before the disqualification is wasted.
ALSO SEE: PrizeRebel Review
Conclusion
ySense is ClixSense rebranded. The former go-to PTC website rebranded and became a GPT site in 2019. Thus, ySense is now a website where members can earn extra money online by completing simple tasks like taking surveys, signing up for offers, playing games, and more.
Yes, ySense is very legit. Not only is it now operated by the 100% legit and reputable marketing company (Prodege LLC), it has a fine operating record, having paid out about $40 million to its members and continue to pay.
As a GPT site, ySense provides its members many ways to earn; with surveys, trial offers, games, and more, there's something everyone can do to earn.
More so, the site is mobile-friendly, so you can earn on the go. It'll interest you to know that in ySense, you earn cash straightaway when you complete activities (not points as it is in some GPT sites). When it's time to redeem your earnings, the payment threshold is low. With only $5 in your account, you can request payment.
However, as the "hits and misses" sections of the review shows, ySense has some areas it can improve upon. For example, the high rate of disqualification from surveys is concerning. While ySense may not be able to do anything about this, at least it can compensate for disqualifications as some other GPT sites do.
Also, it isn't fine that it takes ySense relatively long to process payments. That said; the "hits" of ySense sure outweigh the "misses", such that on the whole, it comes out as a solid GPT site.
Yes, we recommend ySense. If you can live with its "misses", it can as well be your go-to GPT site.