RewardingWays review. RewardingWays offers a large variety of ways to make money working online. This will make it a GPT (Get Paid To) site – a site which gives members opportunities to make money online by doing surveys and other simple online tasks.
First and foremost, is RewardingWays a legit GPT site where members can actually make some money from surveys and other simple tasks; and do members who make money in this site really get paid when they request payment? We can answer this question with a categorical YES.
RewardingWays is a legit GPT site. Members who complete tasks get credited the points or cash (as the case may be); and those who request payment get paid.
The next question is how good RewardingWays is as a GPT site. That is, does it have the characteristic of the ideal GPT site? Does it provide many ways to earn; does it have a low cash-out amount; does it offer fast payments; does it have an effective support service?
This RewardingWays review will examine RewardingWays in order to provide the information that will help you answer these questions and more.
Introduction
| | |
| --- | --- |
| Hits | Misses |
| Operates a simple and user-friendly website (www.rewardingways.com)Operated by a legit market research company (99 Ventures Limited)Has vast experience having started in 2011Active membership is rising by the day (now at 458,500)Keeps users' data safe using industry standard techniques (including SSL technology) Available worldwide | You'll have very limited earning opportunities if not resident in US, Canada, Australia, or a select part of Europe |
What is RewardingWays?
You already know! RewardingWays is a GPT site, which give members opportunities to make money online. However, this is not money to live the life, but just a little extra money to supplement your primary income sources.
RewardingWays was launched in 2011. It is owned and operated by 99 Ventures Limited. This means it is a sister site of Offernation and Superpay.me, as these are also GPT sites from 99 Ventures. In fact, RewardingWays and its sister sites are similar to each other in terms of offers. RewardingWays operate a very simple and user-friendly website. You will not get lost in the site even if you've never used a GPT site before. See the website here: www.rewardingways.com.
Is RewardingWays legit?
As we answered straight-up at the very beginning of this review, RewardingWays is definitely a legit GPT site. What this section does is answer why we think of it as legit.
First is the operator of RewardingWays. It is operated by a legit market research company. 99 Ventures Ltd is a fully registered company (with registration address at: Summit House, 4-5 Mitchell Street, Edinburgh, EH6 7BD, United Kingdom). This company has leading brands as advertising partners. Also, it is responsible for 2 other GPT sites that are regarded as legit. A company of this profile will not put out a scam site
Second is the acceptance level of RewardingWays. It currently has 458,500 members. In our previous review (barely a year ago), active membership was at 395,224. So, RewardingWays is increasing in popularity as the years go by. Know that, you'll expect the opposite with scams. The years reveal the scams, and they die off as they lose membership.
However, RewardingWays has been around for almost a decade, and is only waxing stronger as seen by the rise in membership. More importantly, RewardingWays is accepted not only by members but also by industry watchdogs. You'll find that it is highly rated by most review sites.
Third is that RewardingWays pays. This is the ultimate test of a legit GPT site. Does it pay? Yes. True, you'll find some complaints relating to payments. But on the whole, RewardingWays pays.
As of writing, it had paid out exactly $1,667,295.27 to members (a significant increase on the about $1.4 million that it had paid out when we last reviewed it about a year ago). In the scam GPT sites, you'll do tasks but will not be credited, or you'll be credited but will not receive payment when you cash-out.
That said; with RewardingWays coming from a 100% legit market research company, with it accepted by survey takers and industry watchers alike, and with it actually paying members, it can only be legit.
Is RewardingWays safe?
RewardingWays is a safe GPT site, which means that the sensitive information that you share with it is well-protected. You'll virtually be doing a "tell it all" to use a GPT site; and sometimes you'll have to submit your credit/debit card information. No one will want such personal information or sensitive card information leaking out to unauthorized third users.
Thankfully, RewardingWays utilizes some of the best security techniques to protect your data (including the bank-grade SSL technology). It also will not pass your information to third parties, except requested by law or you specifically request it.
RewardingWays Sister Sites
There are other popular and legitimate sites like RewardingWays. They are known as RewardingWays sister sites. The reason they are called RewardingWays sister sites is that they share the same features such as payment methods, earning ways, etc. so they can be used as RewardingWays alternatives.
Below are the RewardingWays sister sites:
1. OFFERNATION.COM
2. SUPERPAY.ME
Who can use RewardingWays?
Thankfully, RewardingWays is open to all. You only have to meet its age requirements – 18 years and above. This is good news because everyone everywhere wants opportunities to make a little extra income. No matter where you are resident, move over to RewardingWays and join its ranks.
However, know that the earning opportunities are country-specific. Thus, persons in certain countries (especially the US, Canada, Australia, and some part of Europe) will have more earning opportunities.
Earning Potential
| | |
| --- | --- |
| Hits | Misses |
| Registration is simpleIt is free to joinThere's a $0.20 join bonusIs mobile friendly, allowing you to earn from anywhereLots of surveys are available, as many survey providers are usedHas a lot of earning opportunities (including PTC ads, paid videos, paid trial offers, promo codes, etc)Offers a generous 25% referral bonus | No dedicated mobile app, and the website is not fully optimized for mobileRate of disqualification from surveys is not as low as we'll wantThere's no compensation (token rewards) for members disqualified from surveys |
Getting Started
Satisfied already that RewardingWays is legit? Then go to the website (www.rewardingways.com) and hit the "Join Free" button. A registration page will appear which shouldn't take you more than a minute to fill. It is absolutely free to join Rewarding ways. Even better is that there's a join bonus for all new members.
The join bonus is only $0.20. However, it comes unencumbered. That is, after registering, you're immediately credited the join bonus. You're informed of this bonus in the message congratulating you for successfully joining.
This is unlike some sites which dangle a huge join bonus before players but then require players to meet certain conditions (especially having to earn a particular amount within a particular period of time) before the bonus is credited.
Mobile Use
Know that you can open the RewardingWays website and use the service on your mobile devices (smartphones and tablets). So, making that extra income in this site is not limited to when you are before your desktops at work or at home. You can do this from anywhere as long as you can use your portable mobile device, and have access to internet connection.
However, RewardingWays does not have a dedicated mobile app. Mobile-use requires reaching the website from a web browser in your device. Also, the website is not fully optimized for mobile; not all the pages resize to fit your mobile screen.
Ways to Earn
RewardingWays is simply not a survey site where people earn money online by taking surveys. True to its name, it is a GPT site that reward members in many ways. That is, there are many ways to earn from the site. These include: taking surveys, watching videos, paid-to-click offers, trial offers, and more.
Paid Surveys
Surveys are the most popular way for persons to make money in RewardingWays. Thus, it is often referred to as a paid survey site. The site provides a large number of well-paid surveys throughout the day, every single day of the year. There is no limit to the number of surveys you can complete in a day, so you can come back each day to access new surveys.
RewardingWays is able to offer a lot of surveys because it features several third-party survey providers. You'll be able to choose surveys from: Wannads, Persona.ly, Peanutlabs, and Offertoro. You'll also find: Daily Paid Surveys (new surveys available daily), and Live Paid Surveys (updated throughout the day). The surveys typically pay between $0.20 and $1.00.
It should be said that members do not qualify for every survey they attempt. For each survey, the advertisers want feedback from members fitting a particular profile. You're started with preliminary questions when taking a survey.
Whether you are allowed to take the survey to completion or are disqualified from it will depend on whether your answers to the pre-qualification questions show you as a matching profile or not. Know that, disqualification from surveys is something you'll experience in virtually every survey site.
However, in RewardingWays, the rate of disqualification is not as low as we'll want. Also, RewardingWays leaves members dry when they are disqualified from surveys. That is, there is no compensation. This is very frustrating especially when some good amount of time and effort had been put into review (before the disqualification).
It's harder to swallow because many of the GPT sites out there give members some token reward when they suffer disqualifications from surveys.
Paid Offers
RewardingWays has a lot of paid offers. They are also made available by third-party providers. The offers are varied tasks that you can do to earn some little money. Examples of Offers are adhoc surveys that you can take. There are also paid to click offers, where you are paid to view adverts; you'll also find quick tasks from "Minutestaff". Offers also include Paid Videos; you will find a selection of paid videos available on the site, and you are rewarded for each video you choose to view in full.
Lastly, you'll find trials, where you are rewarded for participating in testing a service or product. Many of the trial offers are free, but some do require an initial payment. Know that the latter are usually profitable than the former (the free trials). If you do not want to pay for anything, simply steer away from offers requiring payment.
However, even with the free trials, you should read the fine prints very well. This is because some free trials will require you to submit your credit card information; and with these ones, after the trial period, you'll automatically be subscribed to the service. You can dodge this bullet by cancelling towards the end of the trial period.
However, we've seen cases of people forgetting to cancel only to realize when they've been billed. That said; you may want to steer away from even the free trial offers that'll require credit card information.
Promo Codes
If you're an avid social media person (who isn't these days), you can earn from RewardingWays by simply following it on social media. RewardingWays occasionally post promo codes on its social media pages. Simply find some of these, find your way to the RewardingWays Promo Code page, and enter the promo codes in the appropriate field to get some rewards points.
Cash Contest
RewardingWays runs quarterly cash contests where 20 members can get their hands on a share of a $1,000 cash. All members are automatically entered into the contest. All you need to do to be among the 20 prize winners is to complete activities in the site and earn – the 20 members rewarded every quarter are the top 20 earners in the site in that period. The cash prize is shared as followed: 1st – $350, 2nd – $200, 3rd – $100, 4th & 5th – $50 each, 6th to 10th – $30 each, 11th to 20th – $10 each.
Referral Bonus
You can also earn passive income from the referral program of RewardingWays. It gives 25% referral commission. Thus, if you can get a lot of persons to join RewardingWays (using your referral links/ banners), you will earn 25% of whatever they earn in the site. Interestingly, you can refer as many persons as possible.
How RewardingWays Pays
RewardingWays pays in two ways – cash and points. However, you do not get to choose. Some activities (especially most of the surveys) pay in cash. That is, you do the tasks, and your cash balance is credited. Other activities (especially the paid offers, and promo codes) pay in points. That is, you do the tasks, and you earn points, which you can later convert to cash and other prizes. When redeeming your reward points, 100 points equals to $1.00.
Getting Paid
| | |
| --- | --- |
| Hits | Misses |
| It incentivizes posting payment proofs in other online forums Supports different payment options – PayPal, Payza, Skrill, Bitcoin, Amazon Gift Cards and Tango CardsMinimum cash-out amount is low – $1.00Pay-out is very fast (most are within 8 hours) | Cash-out is not free; a 2% processing fee apply (but it is 3% for Payza, and 10% for bitcoin) |
Payment Proofs
RewardingWays does pay There's no doubt about this. As of writing, over $1.6 million has been paid out already. Importantly, this is not just some fancy statistics; there are payment proofs. First, there's a "withdraw list" in the website, where you'll find players who've been paid (complete with cash-out amount, payment method used, and date of payment).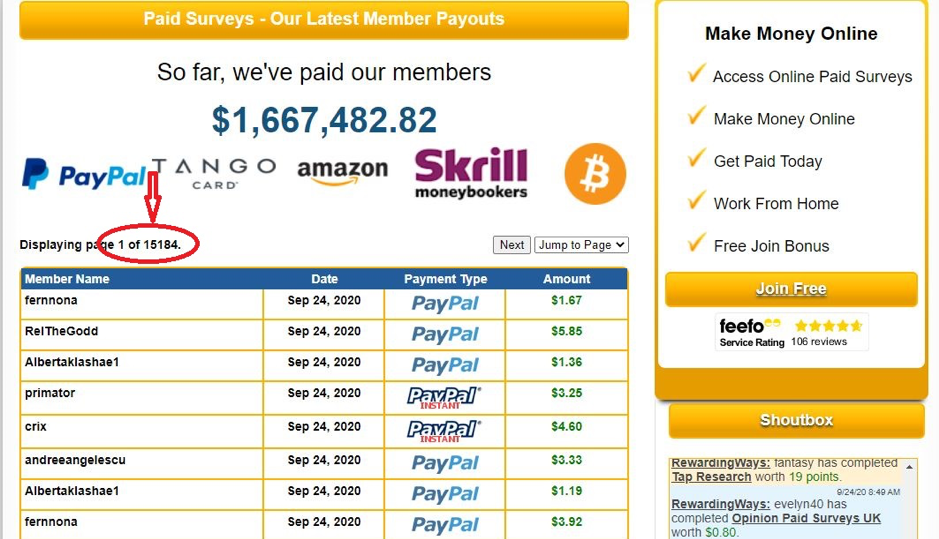 Looking at the list, you'll find that sores of payments are made daily. As highlighted in the picture above, the withdrawal list is 15,184 pages long (and each page has 20 payments). It should also be said that RewardingWays payment proofs are also available in different online forums. As a motivation to post payment proofs, RewardingWays rewards members who post their payment proofs.
Payment Catalogue
How can you cash-out. RewardingWays supports the following payment options: PayPal, Instant PayPal, Payza, Skrill, Bitcoin, Amazon Gift Cards and Tango Cards. This is a robust payment catalogue as it caters to different payment preferences. PayPal is one of the most popular payment options. The presence of bitcoin is very pleasing, as the crypto currencies are making waves these days. Another pleasing option there is Tango cards. These cards give you flexibility if you prefer the gift card options, as these can be used at a variety of known retailers such as Amazon, Starbucks, Nike and many more.
Payment Threshold
You can request a payment from RewardingWays any time your balance is over $1.00. Everyone wants minimum cash-out amount to be very low so that it'll not take long in the site before members will be able to cash-out. Thankfully, RewardingWays read the script; and it goes with a rock-bottom low cash-out threshold of $1.00. This is easily one of the biggest advantages of using RewardingWays. Once you sign up and get that $0.20 join bonus, you'll have only $0.80 more to earn and you'll be able to cash-out.
However, if you want your payment via gift cards, you'll have to accumulate a bit more than $1.00. Gift cards you can request in the site starts from $5.00.
Cash-out Speed
Another big advantage of RewardingWays is fast pay-outs. When you request payment, you'll not want it to take forever to be receive. Thankfully, RewardingWays gives it to you how you want it. In its words: "we provide… very fast payments so you can not only make money online with us, you can get paid within a matter of hours when you request payment".
This is not just some sweet talking. RewardingWays issues all payments within 24 hours; with most issued within 8 hours of requesting payment, and some issued instantly. However, know that these fast payments are for verified accounts.
Cash-out Fees
We'll want to get everything we've earned. However, that is not the case in RewardingWays because it is not fee-free when it comes to cashing out. It charges a processing fee for every cash-out. It's a small 2% fee. But when cashing out using Payza, the applicable processing fee is 3%; and when using Bitcoin, it is 10%.
Customer Support Service
| | |
| --- | --- |
| Hits | Misses |
| An FAQ is provided where members can quickly find answers to questionsA shoutbox is provided where members can interact among themselves for assistanceA dedicated support team is provided which can be contacted via email and online ticketEmail response time is relatively fast (within 24 hours) | The Shoutbox is ineffectiveInstant-feedback support channels (such as Live Chat and Telephone) are not provided |
Self Help
If you have questions, the first place to check is the FAQ page in the website. This provide answers to many common questions, especially those on such topics as membership, Offers and Offer Walls, Earning Cash and Points, Contests, Referrals, and more.
Contact Help
A dedicated support team is also provided if you'll rather directly contact an agent of RewardingWays for assistance. You can reach out by raising a support ticket (from the "contact" page of the website), or by submitting an email (using the email address: support@rewardingways.com).
RewardingWays responds to email submissions relatively fast. Most emails are answered in a few hours; while all emails are answered within 24 hours. However, while the response time is fine, it's still disappointing that contact channels that provide instant feedback (such as Live Chat and telephone service) are not supported.
RewardingWays also has a Shoutbox, which is a place where members can interact with other members and possibly get needed assistance. However, in our opinion, the Shoutbox is largely ineffective. Instead of seeing members interacting, what you'll see is RewardingWays posting that this member or that member has just earned this or that.
The problem is that RewardingWays make this posts every other second. Thus, any real member post (enquiry) will easily be pushed down by the numerous automatic posts of RewardingWays.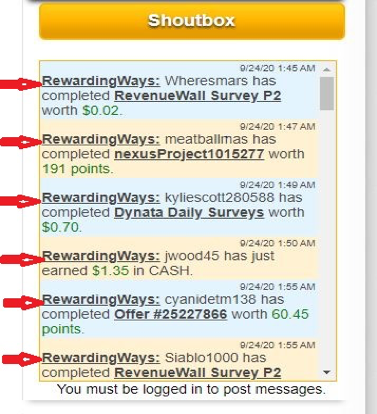 In our opinion, the Shoutbox can come to life and serve its purpose if RewardingWays also post messages that encourage member interactions.
What Members are Saying
Positives
If you check the leading customers' reviews sites, you'll find that RewardingWays is highly rated, with customer having a lot of god things to say about it. For example, in Trustpilot, it was rated 4.7/ 5.0 (as of writing). This is an upgrade on the 4.6/ 5.0 that RewardingWays was rated the last time we reviewed it. Also, in Reviews.co.uk, it was rated 4.8/ 5.0 (as of writing).
The overall high ratings, tell you that many customers are satisfied with the service. Specifically, this is what some customers have to say:
Michalchayim1 (in Reviews.co.uk) says: "there're always surveys to take, an they are fun and very informative. I have never had a problem with the cash-out as well… I give them an A+ rating"
Jtorres6924 (in Reviews.co.uk) says "this website is affiliated with another website called Offernation. It's a great way to get paid fast"
1Jimmymac1 (in Reviews.co.uk) says "a great survey site and very fast payout"
Williams1980 (in reviews.co.uk) says "I'm glad I came across this site. It's legit. Plenty of surveys and offers to choose from. Great way to put a few extra bucks in your wallet. Low fast payout. I'd recommend"
Benjamin Denning (in Trustpilot) says: "Very good site. Fast payouts, including a wide range of offers, and fast ticket replies. However, I wish in the future you could implement pounds currency for us British users"
Jade Moore (in Trustpilot) says: "Easy way to make a bit of pennies; fast cash out and at any time. Nice and easy to use. Plenty of surveys"
Humair Sarwar (in Trustpilot) says: "This is a legit site to earn money through surveys and tasks, you can withdraw as low as USD 1. Fairly simple and straightforward".
These positive reviews hail some of the points already mentioned in this RewardingWays review, such as many earning opportunities, low cashout amount, and fast payouts.
Complaints
However, there were some complaints (or negative reviews). For example:
5MommaBear5 (in reviews.co.uk) says "RewardingWays.com is a great way to make a little extra money. Don't be discouraged if you don't qualify for a survey in the beginning. Keep trying, eventually, you'll get a survey"
Vester710 (in reviews.co.uk) says "…Sometimes it gets irritating completing though since it'll keep disqualifying me either from the beginning or worse, at the end of the survey and I usually don't get credited. This is similar with Samplicio surveys from other GPT sites where it keeps redirecting me to surveys after getting disqualified many times so maybe it's the survey partners themselves causing this but I don't know…"
Customer (in Trustpilot) says "I did some surveys about $6.50, thought I would cash out. When I did, they suddenly asked me to verify…"
First, it should be said that the complaints are becoming scarcer by the day. This can only be good news. That said, one popular complain is displeasure with the rate of disqualification from surveys. This has been earlier touched. Really, it is not that RewardingWays is worse than other GPT site in terms of rate of disqualification from surveys.
In fact, you'll find that it is better than many other GPT sites in this regard. Also, with RewardingWays providing many surveys, if you keep trying, you'll find surveys that you will qualify for. However, we'll like to see RewardingWays give members who are booted out of surveys some compensation.
Another popular complain is displeasure with the 30 – 60 days verification check of RewardingWays. The GPT site has a strict verification process. If it suspects "fraud" when a user attempts cashing out, it'll swiftly lock the account; and a 30 – 60 days verification process must be completed before the account is re-opened.
While many users appreciate why such strict verification checks are essential, they just do not see why it should take up to 60 days (preventing them access to the little income that they've earned).
However, RewardingWays maintains that its security checks cannot be completed faster. That said; when using RewardingWays.com, you should know that your account getting flagged for verification is a possibility; and that the checks will take 30 – 60 days. Also, this can happen anytime and to anyone. That is, it doesn't matter that it is your first cashout or hundredth, or that your account has been verified before.
Conclusion
RewardingWays is a GPT site from 99 Ventures Limited that was started in 2011. With a reputable market research company backing RewardingWays, with it having stayed relevant in the industry for close to a decade, and with it having impressive pay-out statistics, it comes out as a legit GPT site. Yes, you can earn a little extra income in the site; and yes, you'll be paid.
Talk of being true to a name; RewardingWays rewards members in different ways. You can earn from surveys, watching video, viewing PTC ads, trial offers, and more. The website is mobile-friendly, allowing you the flexibility of doing tasks and earning wherever and whenever.
Where RewardingWays outdoes the competition in in payments. First, it supports a wide range of payment options; these include the flexible tango cards, popular e-wallets like PayPal and Skrill, and to the digital currency (bitcoin). Secondly, cashout threshold is very low (just $1.00), meaning members will be able to cashout in no time. Thirdly, pay-out is fast – some are instant, while many are within a few hours.
With low cashout threshold and fast payment, RewardingWays help members access their earnings quickly. RewardingWays also does well in terms of support.
Help is a support ticket or emails away. Importantly, the response comes relatively fast.
It's not hard to see that RewardingWays ticks many of the right boxes. However, as the "hits and misses" sections in the review shows, there are some areas that RewardingWays can work on.
Can we recommend RewardingWays? Yes. You're sure to find RewardingWays a great GPT site if you can make peace with being disqualified from surveys without any compensation, and the possibility of being flagged to go through a 30 – 60 days verification process.